>
 >
How to Choose The Best Plastic Materials For Plastic Injection Molding
How to Choose The Best Plastic Materials For Plastic Injection Molding

Choosing the right plastic for plastic injection molding can be difficult—there are thousands of options in the market from which to choose, many of which will not work for a given goal. Luckily, an in-depth understanding of the desired material properties and intended application will help narrow the list of potential options into something more manageable. When considering the application, it is important to keep in mind the following questions:
Where will the part be used?
How long is its operational lifespan?
What stresses are involved in the application?
Does aesthetics play a role, or is the performance of paramount importance?
What are the budget constraints on the application?
Similarly, the questions below are useful when determining the desired material properties: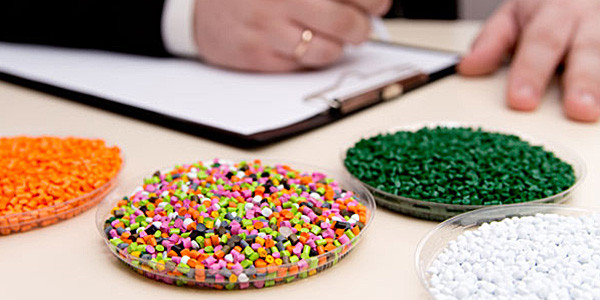 What are the mechanical and chemical characteristics needed from the plastic?
How does the plastic behave when heating and cooling (i.e., thermal expansion and shrinkage, melting temperature range, degradation temperature)?
What interactions does the plastic have with air, other plastics, chemicals, etc.?
Included below is a table of the common injection molding plastics, each with its own set of advantages and general industry applications:
General Industry Application
Chemical resistant, impact resistant, heat resistant, sturdy
Material General Industry Application Advantages
Polypropylene (PP)
Chemical resistant, impact resistant, cold resistant, and sturdy
Impact resistant, moisture resistant, flexible
Leach resistant, recyclable, flexible
High Impact Polystyrene (HIPS)
Cheap, easily formed, colorful, customizable
Sturdy, impact resistant, flame resistant, insulative
Acrylic (PMMA, Plexiglass, etc)
Impregnable (glass, fiberglass, etc.), heat resistant, fatigue resistant
Acrylonitrile Butadiene Styrene (ABS)
Sturdy, temperature resistant, colorful, chemically safe
Impact resistant, optically clear, temperature resistant, dimensionally stable
Impregnable (glass, fiberglass, etc.), heat resistant, fatigue resistant
Cold resistant, abrasion resistant, sturdy, good tensile strength
High strength, high rigidity, dimensionally stable, heat resistant
Polyether Ether Ketone (PEEK)
Heat resistant, flame retardant, high strength, dimensionally stable
Polyphenylene Sulfide (PPS)
Excellent overall resistances, flame retardant, harsh environment resistant
Thermoplastics are the preferred choice for injection molding. For many reasons such as recyclability and ease of processing. So where a product can get injection molded using a thermoplastic, go for that. High flexible products for long have necessitated the need for thermoset elastomers. Today you have the option of thermoplastic elastomers. So that your part needs to be very flexible does not remove the option of using thermoplastics. There are also different grades of TPEs from food grade to high-performance TPEs.
Commodity plastics get used in everyday consumer products. Examples are polystyrene coffee cups, polypropylene takeaway bowls, and high-density polyethylene bottle caps. They are cheaper and more available. Engineering plastics get used in, as the name implies, engineering applications. You'll find them in greenhouses, roofing sheets, and equipment. Examples are polyamides (Nylon), polycarbonate (PC), and acrylonitrile butadiene styrene (ABS). They can withstand more harsh environmental conditions. They'll withstand load and temperatures well above room temperatures. High-performance plastics perform well under conditions where commodities and engineering plastics fail. Examples of high-performance plastics are polyethylene ether ketone, polytetrafluoroethylene, and polyphenylene sulfide. Also known as PEEK, PTFE, and PPS. They find use in high-end applications such as aerospace, medical devices, and gears. High performance is more expensive than a commodity or engineering plastics. The properties of the plastics help you decide which suits a particular application. For example, some applications demand strong but lightweight materials. For this, you compare their density and tensile strength.