How To Pick A Good Injection Molding Company

Are you a plastic parts buyer? Are you struggling to find a partnership with a valuable molder? PMC (Plastic Molded Concepts) is here to help you. We understand identifying a respectable molding company is crucial to your company's success. It is important to prioritize the process of choosing a good molder. Let's review a few questions that will assist you in finding a beneficial teammate to support your company's commitment to quality.
Education and Training:
1.Is the new molding house educated on your company's needs? Are they updated on the processing manuals supplied by the material manufacturer? Your molding company should be aware of the mechanical properties that were advertised and defined in the literature provided by the material manufacturer. Your engineering department believed these mechanical properties to be important, therefore they should be known and implemented. They will ultimately result in the survival of your product in its finished environment.
2.Does my new molder have the proper knowledge to process the resin of my choice? Do they know how to utilize the best molding practices? Are they aware of resin drying time, heat history, and molding temperatures, etc., etc.? Be sure your new molder is aware of your machine settings. This is crucial in determining a dependable and high quality outcome for your products.
3.Does the prospective molder have an effective training program for the employees? Are the employees aware of expectations, processes, and deadlines? Communicate your needs with your potential partner.
4.Does the new molding house know how to handle raw materials; specifically the materials that will develop new products? Knowledge of the materials is essential in the molding technique.
Process:
1.How about regrind? Does the new molding company know what materials can be reground and blended back into the molding process? Are they aware of the specific ratios of materials? The process by which your molder executes the creation of your products is imperative to dependable results.
2.Have you evaluated the cleanliness of the new molding house? Are the scrap grinders properly cleaned and prepared to prevent contamination? How should the materials be handled throughout the process in order to achieve goals in the final production (ie: should parts be handled with gloves?). Take a tour of the molding company and evaluate the working conditions.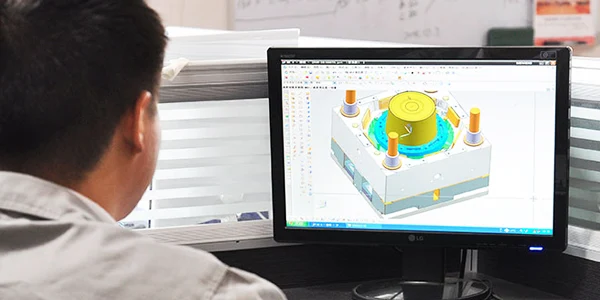 Relationship:
1.Can you trust your molding house to properly do the job? Do you have an honest and reliable relationship with your new partner? Good communication with your new molder is imperative to satisfying results. Continuous interaction with your new partner and creating a solid foundation of your business relationship will only benefit the development process.
2.Quality versus Quantity: Is cost the important aspect of your project? Quality stands the test of time; it may not be obvious until parts fail to do their job in the finished product. You supply your customers with reliable products. Be sure your molding company is supplying you with a dependable process.
Think about these questions when choosing your molder. Relay these questions to your potential molding company.
Remember – education, trust, communication, and quality of work are vital to a long-lasting business relationship. Ask the questions and get some answers. This will assist you in finding and maintaining a dependable partnership.
James Yuan
President, DJmoling Injection

Here are 5 tips that you need to keep in mind choosing a manufacturer for your business.
1. Look for a Great Customer Experience
You should make sure that the manufacturer you choose prioritizes the customer experience and is knowledgeable and helpful at all times. A manufacturer should go above and beyond when providing service to you and should be quick to respond to inquiries.
You'll want to do some research to find out what kind of customer and technical support they provide. Be sure that you'll have a good experience and can get quick answers to any questions that you have.
2. Understand Their Manufacturing Capabilities
When choosing a plastic manufacturer, you need to make sure that you know what you're looking for. Think carefully about the types of plastic products that you want to have manufactured and be sure that the company you choose can meet your needs.
You'll want to evaluate the quality of the manufacturer and their ability to manufacture the products you need. Find out about the quality of the equipment that they have to use.
Make sure that the manufacturer is using state-of-the-art equipment and has the necessary machinery to make products to your exact specifications.
3. Understand Their Processes
In addition to talking to a manufacturer to find out more about their equipment and products, find out what their processes are as well. You need to be sure that they take their work seriously and have great practices in place to deliver quality results consistently.
You should also be sure that they prioritize quality management, compliance, and regular maintenance and inspection of equipment.
4. Consider the Costs
When choosing a plastic manufacturer, you'll also want to think about the cost of the services you need. Different manufacturers vary in cost, so you need to verify that they can work within your budget.
On the other hand, make sure that you focus that you look for great quality and reliability first and foremost. A lower-cost option may seem attractive at first, but you'll need to make sure that they also offer great results and service.
5. Do Your Research
Remember that you shouldn't just choose the first plastic manufacturer you come across when searching online.
Make sure that you dig deep into the specifics of each company that you're considering and compare them on the quality and service they provide. It's a good idea to research a manufacturer online and find out more about their reputation by browsing the web.
You should also call each manufacturer you're considering and meet with them in person to find out what you can expect from their services. Discuss your needs with a manufacturer more thoroughly before choosing one to work with.
Following These Tips to Find a Great Plastic Manufacturer
If you're trying to choose a plastic manufacturer for your business, be sure to consider all of the finer points. Look for a great customer experience while verifying that you'll get the quality work you need.
Looking for a reliable plastic manufacturer in the automotive industry? Contact us today to learn more about what we can do for you.